100% Organic Latex Contour Pillow for Neck Pain [GOTS & GOLS Certified]
Non-Toxic, No Polyester, No Chemicals, All Organic
Regular price
$107.98 USD
Regular price
$110.98 USD
Sale price
$107.98 USD
Unit price
per
Sale
Sold out
Organic Latex Contour Pillow is GOLS certified & comes with GOTS certified Organic Cover.

ERGONOMIC CONTOUR DESIGN: Helps correctly align spine by supporting the natural curves of your head, neck, & shoulders. This organic latex contour pillow is considered the best pillow for neck pain. 
CERTIFIED BY TOP 2 TRUSTED ORGANIC ORGANIZATIONS:

 

Only two mattress labels precisely meet the most stringent qualifications: the Global Organic Textile Standard (GOTS) and, for mattresses that contain latex, the Global Organic Latex Standard (GOLS) and we have both! "100% Natural Latex"/"Organic" claims. 
NATURAL & NON-TOXIC: This latex contour pillow is made from Eco-harvested rubber trees. Dunlop process. No off-gassing . Hypo-allergenic & resistant to dust mites, bacteria, mold & bugs.
GREEN, SUSTAINABLE & ECOFRIENDLY:

 

We're a company who is PRO green planet. Our contour pillow is 100% organic latex with an ALL organic cotton cover. In creating organic products, we push for cleaner practices in production and lower use of natural resources for a greener planet!
ORGANIC COTTON COVER INCLUDED:

 

Luxurious organic cotton covering included to increase durability of this all organic latex contour pillow to protect it from normal wear and tear and extend the lifetime of your pillow.
Approx. Measurements: 
How To Choose The Loft Of A Organic Contour Pillow
The loft of a contour pillow refers to its height or thickness, and it can have a significant impact on the level of support and comfort it provides. Here are some factors to consider when choosing the loft of a contour pillow:
Sleeping position: The loft of a contour pillow should be chosen based on your sleeping position. For example, if you sleep on your side, a higher loft pillow will provide more support for your neck and spine, whereas if you sleep on your back, a lower loft pillow may be more comfortable.

Body weight: Your body weight can also impact the appropriate loft for a contour pillow. If you are a heavier person, a higher loft pillow may be more supportive, whereas if you are lighter, a lower loft pillow may be more comfortable.
Neck and shoulder pain: If you have neck or shoulder pain, a higher loft contour pillow may help provide additional support and reduce pain.

Personal preference: Ultimately, the right loft for a contour pillow will depend on your personal preferences. You may need to try out a few different options to determine which loft provides the best level of support and comfort for you.
Share
Return Policy

Exchange Policy
If you wish to exchange or upgrade to other products of the same value or higher value, please contact us within 30 days of receiving your product. For exchanges, we will cover the cost of return shipping as well as the shipping cost of the new item. You are eligible for one free exchange only. For a higher value upgrade, you will need to cover the price difference.

Return Policy
Your happiness and satisfaction are of the utmost importance to us. If you are in any way dissatisfied with our product, Organic Textiles gives all customers the chance to return their product.

We have a 30 day return policy, which means you have 30 days after receiving your item to request a return. To be eligible for a return, The return item must be NEW, or close to new like condition. We do not accept back USED or WASHED ITEMS. We do not accept returns after 30 days from the purchase date.

If returned damaged/stained/used/washed we will charge customer a fee accordingly.
The refund will be the item price minus any additional fees (if applicable).
Refused Delivery: If the customer refuses the delivery, the customer will be charged.

https://www.organictextiles.com/pages/return-exchange-policy
Care instructions

Care For Your Pillow

The pillow shouldn't be washed, per our advice. If washing, please only hand wash. The pillow must dry for at least 1-2 days.

Please follow these steps:

1. Take off the pillowcase (can be hand-washed or machine-washed).
2. Fill sink or container with warm water.
3. Add some gentle detergent.
4. Dip a fresh towel into the solution and wring dry.
5. Use the cloth to blot the pillow, paying special attention to any stains.
6. After blotting, place clean towels on either side of the pillow to absorb any remaining moisture.
7. Allow to air dry flat and protected from the sun.
8. Place a clean pillowcase over your latex pillow.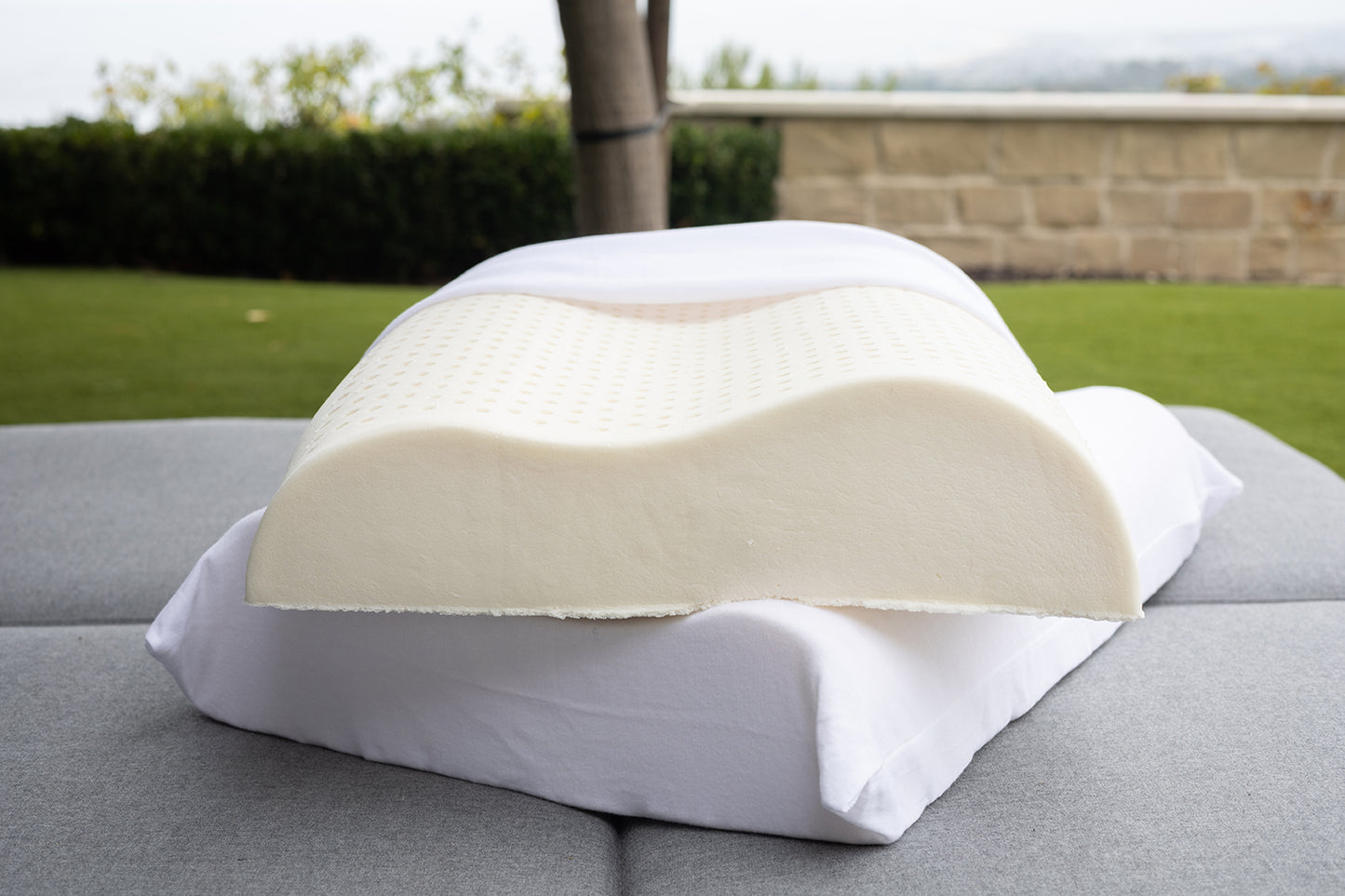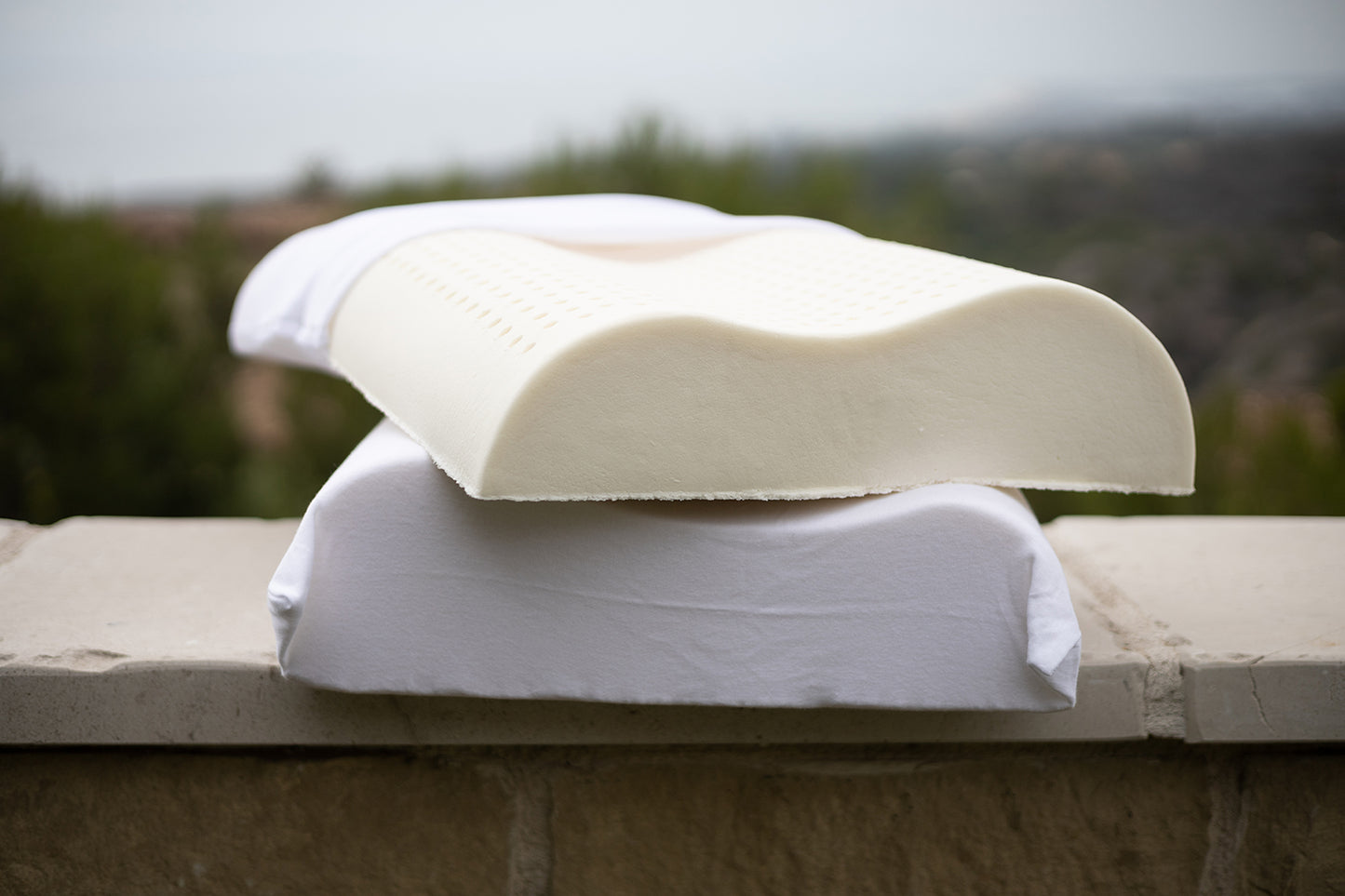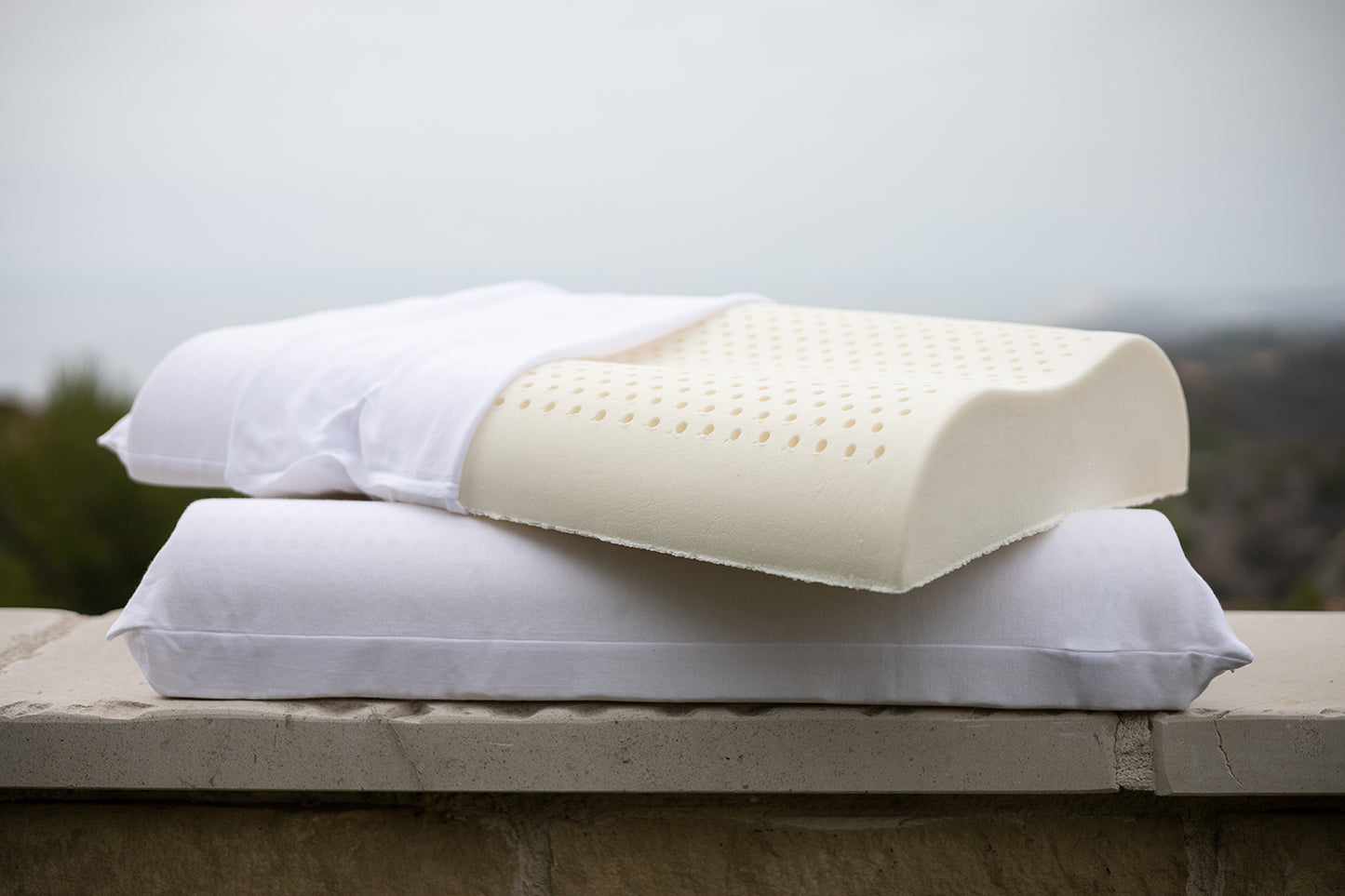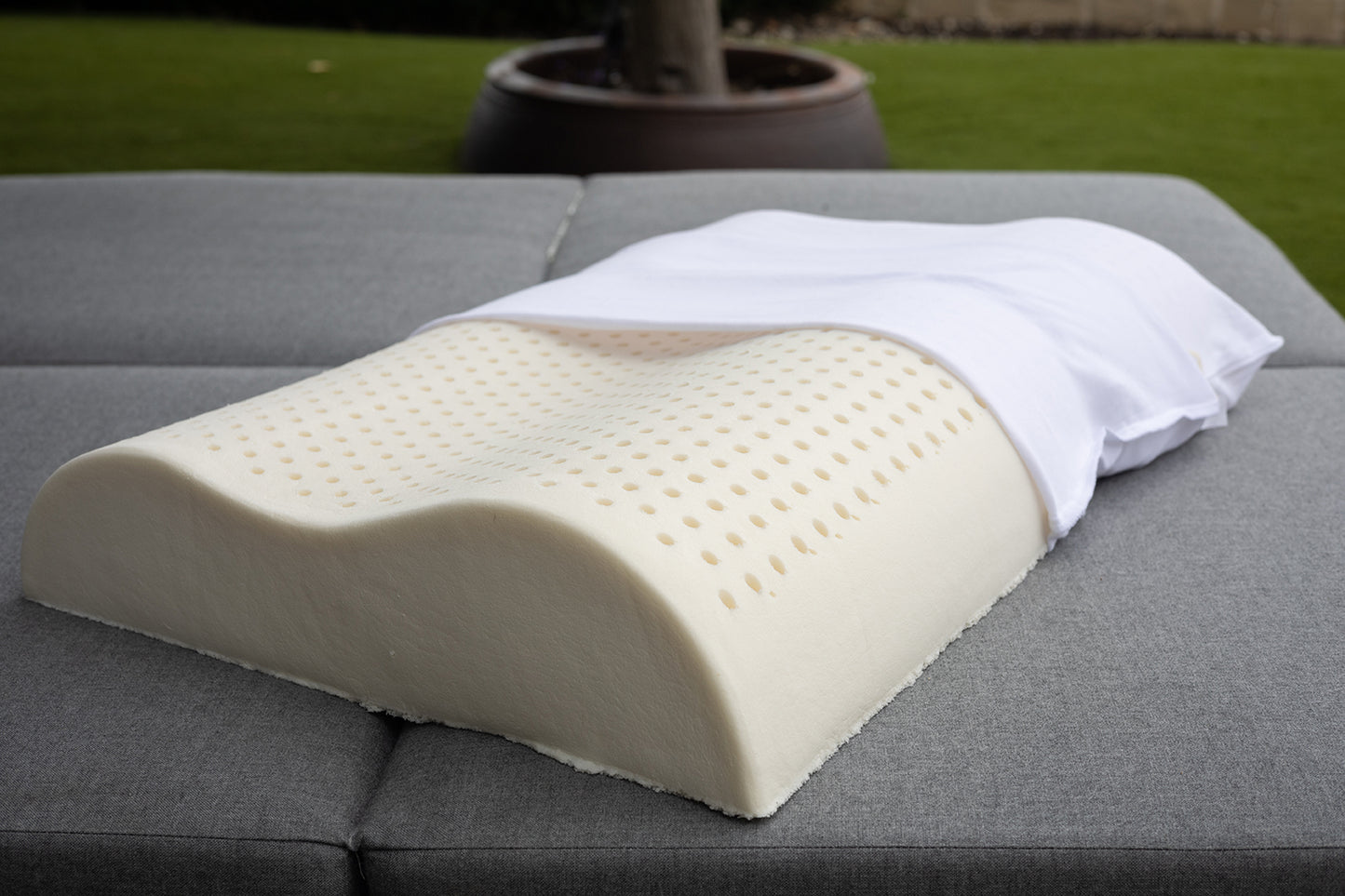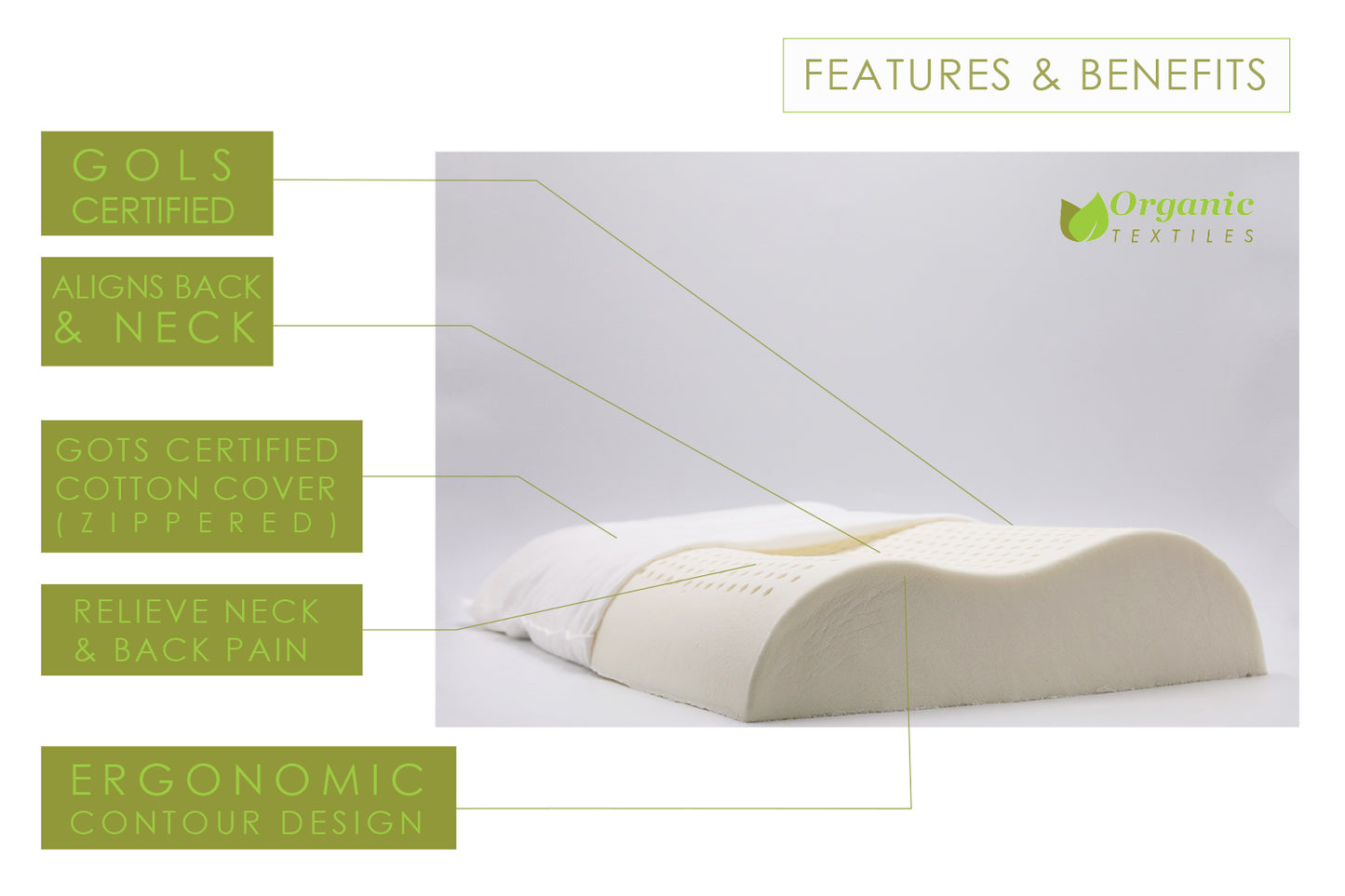 Live healthy, Sleep well.
We strive to provide our customers with Home Bedding products they can trust, while taking part in creating a Cleaner & Safer Environment for everyone.